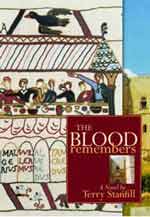 Click Picture to Enlarge
Finalist, General Fiction
Independent
Publishers Awards
BOOK EXPO, 2002

Finalist, Mainstream Fiction Category
Dorothy Parker Awards of Excellence,
2002


The Blood Remembers
A Novel by Terry Stanfill
Reviews
Stanfill Joins Other Top Authors for Award
Terry Stanfill, author of The Blood Remembers, has been selected as a finalist in the prestigious 2002 Dorothy Parker Awards of Excellence. She is acknowledged in the Mainstream Fiction category along with other notable authors, such as
Alice Sebold. Finalists are carefully chosen by Reviewers International Organization and will be posted on April 1, 2003 on www.no-reviews.com.
Elton-Wolf Publishing
* * * * * FIVE STARS
Harriet Klausner, Amazon.com #1 Reviewer
Readers will remember Terry Stanfill's deep tale because Rose haunts the audience by getting into your blood.
THE BLOOD REMEMBERS is a haunting time travel tale that is so rich with interwoven historical tidbits, readers will believe the author is writing an autobiographical fiction novel. The story line is loaded with action yet the key player Rose is a multifaceted individual struggling with her life and the intrusion of the voice. Readers will remember Terry Stanfill's deep tale because Rose haunts the audience by getting into your blood.
Harriet Klausner, Amazon.com

TOP PICKS with * * * * 1/2 STARS in the November Issue of Romantic Times BookClub Magazine.
This isn't a traditional romance by any stretch of the imagination. Nevertheless, romantic overtones resonate throughout this compelling novel. I especially enjoyed the way the book went from present to past and back to present. I highly recommend this fascinating novel.
Kathy Boswell, Romantic Times
Terry Stanfill's message on Romantic Times BookClub Magazine
Great Debut by a Talented Storyteller
I rarely find a 'first book' to be all that a publisher says it is. In the case of THE BLOOD REMEMBERS, however, I must make an exception. Terry Stanfill has written a story that rivals another great first work, THE EIGHT.
Terry Matthews, Reviewer, Bookbrowser
The Blood Remembers is a superbly written debut novel by Terry Stanfill and documents her from first page to last as a writer of great storytelling abilities.
Mid West Book Review.
The Blood Remembers is a haunting novel. I am awed by its structure. Like the names of its characters, it seems to be written in the form of a rose. Inside, there is the story of Rosamonde. The outer petals are the story of Rose. It is only with the unfurling of all the petals that the rose blooms for those few minutes in all its perfect beauty.
Geri Wilson, San Marino Tribune
Terry Stanfill, the author of an excellent novel. Go with the romantic flow and the historical accuracy and you'll have a grand time in front of the fire.
Connie Martinson, Connie Martinson Talks Books
Summer will always be associated with reading for me.
I offer a summer book suggestion that tickles me on many levels. First of all, the Blood Remembers by Terry Stanfill is one of those yummy books that I—cliché that it is—couldn't
put down.
Ellen Snortland, Pasadena Weekly
After reading a good book such as The Blood Remembers, you may be surprised to find out that your favorite new author was a West Haven citizen. Tension and surprise mount to a marvelous climax in this tale where past, present and future as well as real and imagined worlds meet.
Taralynn Villano, Correspondent, The West Haven News
Un roman aussi riche d'histoire et de culture, qui reste cependant toujours accessible est un véritable trésor. C'est
la combinaison de beaucoup de talent et de sensibilité qui en fait un livre aussi spécial et précieux, aussi mystérieux et passionnant. Le lire me rappelle le plaisir qu'on éprouve quand on se perd dans la contemplation d'une tapisserie
« mille-fleurs », un détail conduit à un autre détail, un pétale conduit à une autre feuille, et bientôt, on est sous le charme d'une « invitation au voyage » magique parmi une forêt de
« symboles et de signes ».
French Reviewer on Amazon.com sit., France.
BOOK OF THE WEEK —October 10, 2001
I don't usually recommend books. I have to read them first. However, The Blood Remembers by Terry Stanfill is a dynamite escape from today's problems.
Earl Blackwell, Blackwell's People, The Toluccan Times.